Wonder stories. That's what I call 'em. Make of it what you will.
For, what with my whole world-wide wandering,
What with my search drawn out through years, my hope
Dwindled into a ghost not fit to cope
With that obstreperous joy success would bring, –
I hardly tried now to rebuke the spring
My heart made, finding failure in its scope.
—Robert Browning: "Childe Roland to the Dark Tower Came"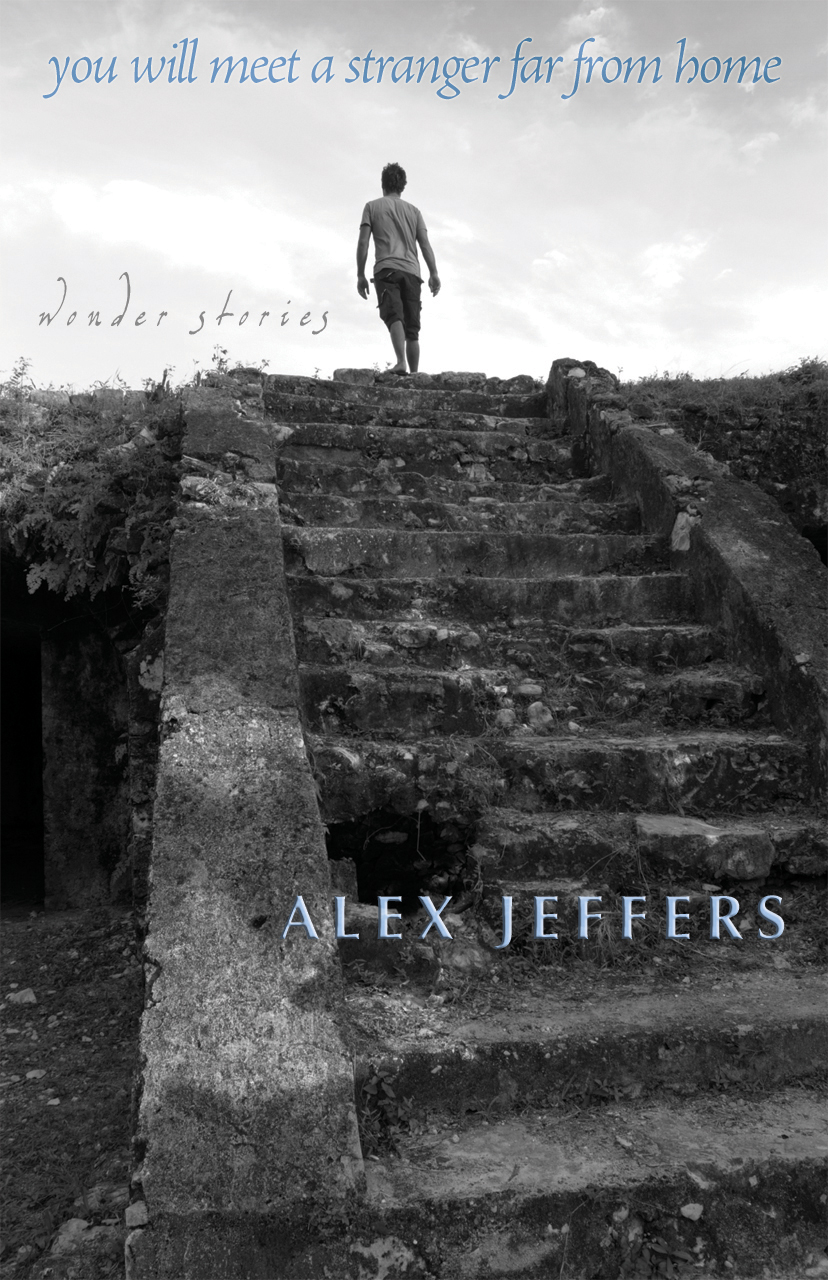 Ten recent stories that wander back and forth along and across the boundaries between realistic, fantastical, and science fiction.
Wheat, Barley, Lettuce, Fennel, Salt for Sorrow, Blood for Joy
Composed 2011, first published 2012. In which Luke, on a sailing cruise off the coast of Turkey, encounters Adonis.
The Arab's Prayer
Composed 2010, first published 2011. In which Mus'ad, an Israeli Arab of the very near future, witnesses a small but profound socio-political change.
Then We Went There
Composed 2009, first published in this collection. In which Davey, a disaffected, accidentally heroic teen, loses everything and gains…something.
Firooz and His Brother
Composed 2005, first published 2008. In which Firooz, a merchant of the Silk Road, becomes a brother, then a father.
Turning
Composed 2009-2010, first published 2011. In which Serkan, a brutalized Turkish youth, discovers peace at the tomb of mad Sufi poet Rumi.
Haider and His Dog
Composed 2007, first published in this volume. In which Firooz's brother Haider completes his explorations in the fantastical world of his birth.
Jannicke's Cat
Composed 2008, first published 2009. In which an old, old lady on a distant planet creates a gift for her great-grandson.
Liam and the Wild Fairy
Composed 2010, first published 2010. In which Liam, raised by gay dads in rural Massachusetts, encounters for the first time a person like himself, and glimpses fairyland.
Ban's Dream of the Sea
Composed 2011, first published 2012. In which Ban, aristocrat scholar, observes the secret history of his ancient city in the sea.
Tattooed Love Boys
Composed 2009, first published 2012. In which Emma and her brother Theo, on extended holiday in Europe, are changed forever.
---
It's a marvelous book. This guy is a major talent…. The stories compliment yet satisfyingly differ from each other, the atmospheres are like different-colour palettes. Jeffers can be cruel, pragmatic, tender, sweet, funny, sexy, and devastating. The stories, and their underlying themes and currents, linger. A most collectable collection.
—Tanith Lee,
author of Disturbed by Her Song and many others
Step onto this flying carpet and prepare to be carried away to exotic times and places, where Alex Jeffers has set up camp to tell his tales to both those already familiar with his wonderful wonder stories and to those strangers who happen to be passing by.
—Christopher Barzak,
author of One for Sorrow & The Love We Share Without Knowing
…a curious but engrossing blend of cultures, sexualities, and gender identities in worlds where magic is both ethereal and ever-present. … Jeffers has an elevated writing style that fits snugly with the stories' subtle but persistent titular wonder.
What a cornucopia! Each story is a world, and each is more amazing than the one before it. The book is a like a jewel-case filled with these glittering, gorgeous, but very dangerous brooches! The pins are sharp! Barbed at times. And the writing is perfection.
—Agnes Bushell,
author of Days of the Dead
These ten stories transport us in smart, dazzling, and sometimes brutal ways into worlds that are both familiar and unfamiliar, near at hand and far over the horizon.  Alex Jeffers writes like a man with a thousand years of stories to share. Each is like a prism held up to the sun, refracting hard but rewarding truths unlikely to be found in any other place but these beautiful pages.
—Sandra McDonald,
author of Diana Comet and Other Improbable Stories
You Will Meet A Stranger Far From Home is a pleasure to read from start to finish and Alex Jeffers is a talented writer. Fans of weird and speculative fiction will find something to delight in on every page and it is also a great find for readers of short, well written story collections. Highly recommended!
Whenever I encounter one of Jeffers' stories in an anthology…I usually read it first because I know I will be astounded, not only by the depth of his imagination but by his ability to make those imagined worlds become real. I also know that I will be reading a story layered with atmosphere and meaning—dense and delicious as a flourless chocolate cake.
—Jerry L. Wheeler, Out in Print Queer Book Reviews
Jeffers' tales run the gamut from the familiar to the alien, from real world settings to far-flung fantasy lands, but even with the most reality-bound entries the word mundane never applies—in these fictions, the Aegean Sea holds just as much magic as the unnamed worlds Jeffers conjures up.
—Jesse Bullington, author of The Sad Tale of the Brothers Grossbart
and The Enterprise of Death
I really loved how the writer blended reality and myth and made me wonder several times what was meant to be real and what was not. I think I would compare these stories with [Scheherezade]'s stories…
—Sirius, Reviewsbyjessewave.com
There are things that shift through the world and challenge what we know. [You Will Meet a Stranger Far from Home] is a collection of short fiction from Alex Jeffers, who explores our relationship with the world around us and explores it by throwing it up against the unusual and fantastical. …an enticing collection, an excellent pick for short fiction assortments at community libraries.
—Midwest Book Review Small Press Bookwatch
Imaginative, atmospheric and rare, this brace of short stories never fails to entertain. It bends reality into fantasy as often as it bends genders, folding back in on itself in a cultural Moebius strip that melds emotions and intellect. You'll want to read them quickly, then go back to savor their exotic spice.
Out in Print: Best of 2012
Alex Jeffers's You Will Meet a Stranger Far from Home is a marvelous collection that balances the fantastic with the down and dirty, and ranges from the sexy to the romantic to the haunting.
—Strange Horizons: 2012 in Review
A 2013 Over the Rainbow Book selected by the GLBT Round Table of the American Library Association.