A novella by Dayna Ingram. BrazenHead/Lethe Press, 2011.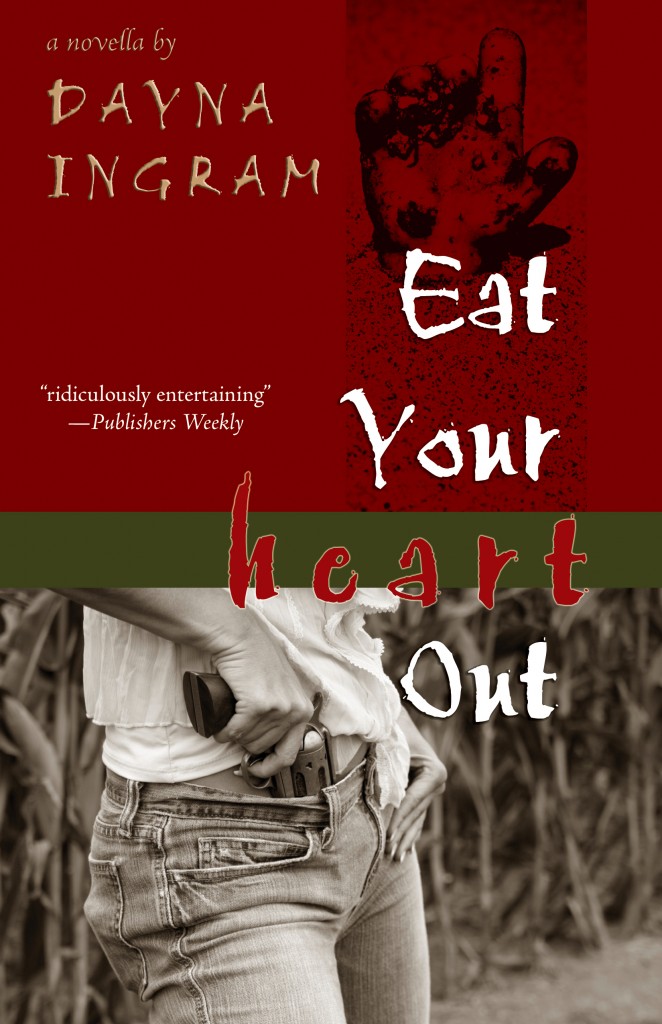 A breakneck tale of kick-ass, wise-ass, sexy-ass lesbians and ZOMBIES, Eat Your Heart Out opens on what promises to be another tediously annoying day at Ashbee's Furniture Outlet. Then the strip-mall calm of Nowhere, Ohio, is shattered by the sudden, simultaneous appearance of Renni Ramirez—hyper-competent star of the beloved Rising Evil B-movie franchise—and actual ZOMBIES, leaving Ashbee's hapless staff and Renni trapped behind an automatic door they can't lock.
Can failed creative-writing student/apprentice store manager/eagle-eyed markswoman Devin escape the besieged furniture store to rescue her girlfriend? Will Renni's experience slaughtering motion-captured CGI monsters save the day before the army bombs the town? Once bitten, how many zombies can a person expect to take out before succumbing to infection? Who is the mysterious Deus Ex Machina, and what is he doing with that bone saw?
All of these questions and more whisper behind the scream of the single most important thing Devin needs to know in order to survive: is Renni a top or a bottom?
---
Praise for Eat Your Heart Out
Sex, violence, and horror combine in a ridiculously entertaining novella of lesbians and zombies… [A] no-holds-barred action-packed romp, filled with rich descriptions, detailed sensory input, sexy flirting, and zombie fighting in the best cult tradition. Ingram has a keen ear for dialogue and believable characters, and this punchy, raunchy story would make a great grindhouse film.
—Publishers Weekly (starred review)
Dayna Ingram is an irrepressible and shameless comedienne of the Dark Side. Read Eat Your Heart Out if you appreciate suspense, horror, sex, humor, and of course zombies.
—Maxine Chernoff, author of A House in Summer
A smart, sassy and sexy romp through the zombie apocalypse, with just the right mix of gore and humor and kick-ass heroines. Devin and Renni will grab your imagination and then kick you in the crotch if you get in their way. Pulp at its best—it will leave you wanting a movie version, a graphic novel, the indie soundtrack and a dozen thrilling sequels.
—Sandra McDonald, author of Diana Comet & Other Improbable Stories
This book is a double scoop of melt-in-your-mouth guts-and-brains-flavored ice cream with a pop culture cherry on top, in a word: yummy! Eat Your Heart Out announces with a guttural zombie howl that Dayna Ingram is a talent to watch out for.
—Tom Cardamone, author of Pumpkin Teeth
Guts, guns, girls and glory—as zombies overrun a small Midwestern town, plucky protagonist Devin battles her way through the nomming undead not only to safety, but to the heart of her beautiful, tough-as-nails companion, B-horror movie star Renni Ramirez. Eat Your Heart Out is a sly, clever, sexy and thoroughly original take on zombies, with a wink and nod toward the cultural power of Hollywood, and our endless fascination with the undead. A deliciously fun read that will leave readers voraciously clamoring for more.
—Livia Llewellyn, author of Engines of Desire
Eat Your Heart Out is a wildly inventive, laugh out loud, deliciously sexy zombie romp—with lesbians. Really, what more do you need?
—JoSelle Vanderhooft, editor of Steam-Powered I &II:
Lesbian Steampunk Stories
Despite sounding like clichéd fanfiction written by a horny devotee, "Eat Your Heart Out" is tender yet ruthlessly gruesome.This sweet zombie novella needs to be made into an A or B movie…right now.
—Katie Drexel, Edge network
…if you fancy a rip roaring zombie action story where the girl gets the girl, written by an author who has a sense of humour and knows how to play the tropes of this subgenre with a virtuoso skill and invention, then Eat Your Heart Out is the book for you.
—Peter Tennant, Black Static
Eat Your Heart Out is a 146-page orgy of heart pounding, rip-roaring, sidesplitting, sex saturated, action-packed goodness wrapped around a gooey zombie center. The characters are rich and filling, and the dialogue is sharp and clever. This novella proudly displays each and every one of the over-used conventions and eye-rolling effects that make cult films like Evil Dead and Night of the Living Dead so bad they're good. …an instant classic: the lesbian equivalent of Richard Matheson's I Am Legend, only with Naked Twister and a preponderance of truck balls.
You're going to love Devin. You'll lust after Renni Ramirez, too. Hey, even I did as a gay man. Let Ingram take you on a wild zombie adventure. You'll come to appreciate just why zombies have popped up on the popularity chart of late.
—Damian Serbu, Lambda Literary Review
With a dry wit and a sense of the absurdity of the situation (zombies? In the middle of Ohio? Who would notice the difference?), author Ingram keeps the action brief and the tale short enough to avoid indulgence. It's a romp you can sink your teeth into.
—Jim Provenzano, Bay Area Reporter
This is a clever character study splattered with recognizable horror tropes, in which the heroine confronts not merely zombies but herself, resulting in a tightly paced, humorous tale about the perils of being emotionally repressed and menaced by the undead.
—James K. Moran, Rue Morgue
A finalist for the 2012 Golden Crown Literary Society Award
in Speculative Fiction
---
About the Author
Dayna Ingram grew up in Ohio and has since moved to the Bay Area, where she spends most of her time workin', schoolin', and forcin' her dog to wear sweater vests. For more info on her writing projects, visit thedingram.blogspot.com.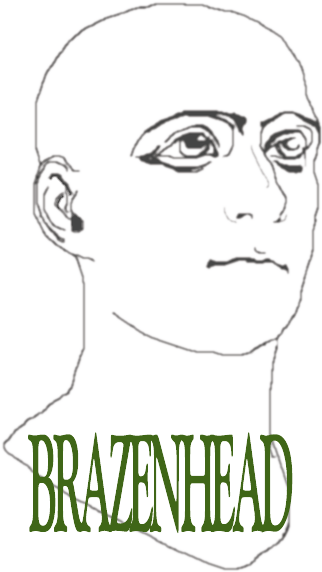 Exceptional novellas of queer speculative fiction