I've been quiet, yes. It turns out I remain as stupidly sensitive to inclement weather as ever, even after a transcontinental move and while continuing to take my meds. The weather turned inclement just about the time I installed the cats and myself in our new home. What did I expect? It's fall, edging into winter, in the PNW. At any rate, my get up and go has been…spotty.
For the record, I define clement weather as merciless sunshine, 75+°F. Yeah, I know, I should have moved to Costa Rica.
the last rose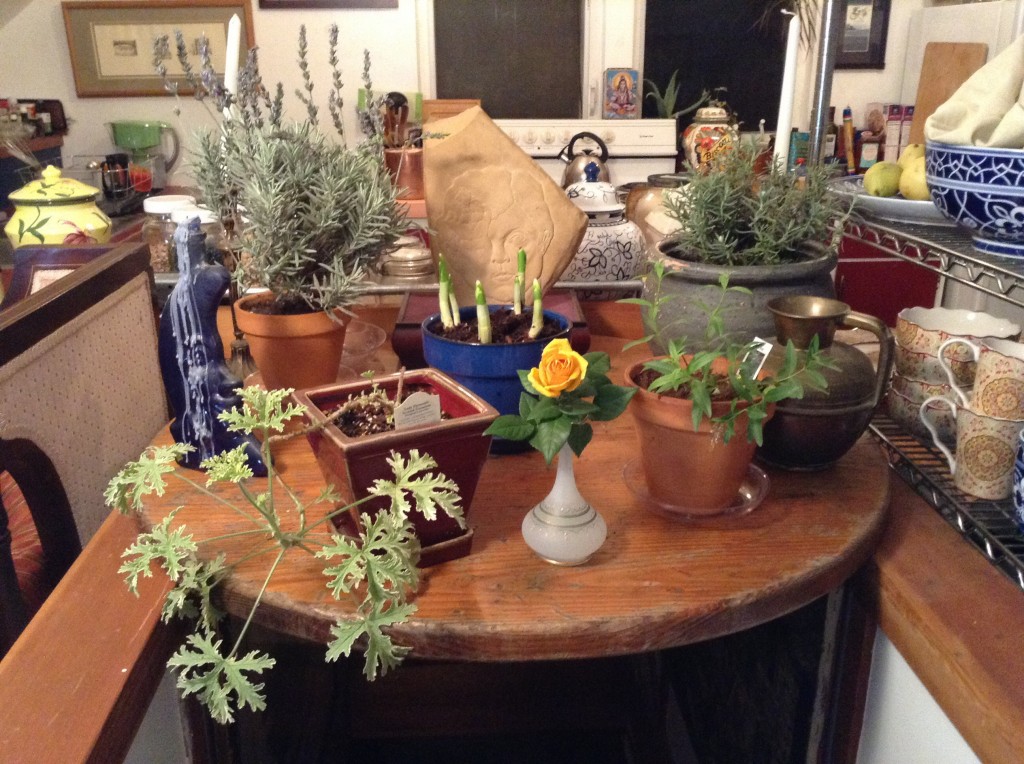 Not the last ever, or at least I hope not. The last of the year from my little deck garden, cut and photographed a few weeks ago before frost could turn it to mush. Because it was cold in Eugene that week, really damn cold. Not like the Midwest, granted, or even New England, but I'm out of practice. Thank merciful and compassionate God I wasn't so stupid as to discard my gloves, coats, or longjohns when I packed to move west.
The forced paperwhites in the blue pot behind the rose are presently a yard high and blooming ferociously, while the other pots contain tender perennials brought indoors for the winter. Clockwise from top right: so-called French lavender (Lavandula dentata); lemon verbena; the last survivor of my collection of scented geraniums, Lady Plymouth; and Goodwin Creek Grey lavender, a cross between dentata and angustifolia (so-called English lavender, of which I have two varieties still on the deck).
the apartment
My brother and brother-in-law helped me move the last of the furniture from storage just before the end of October. These were pieces I couldn't handle all by myself—inherited antiques that never made it into the Rhode Island apartment because they wouldn't go up the narrow, twisty staircase and which I basically hadn't seen, let alone sat on, for a decade. It's lovely to have them again.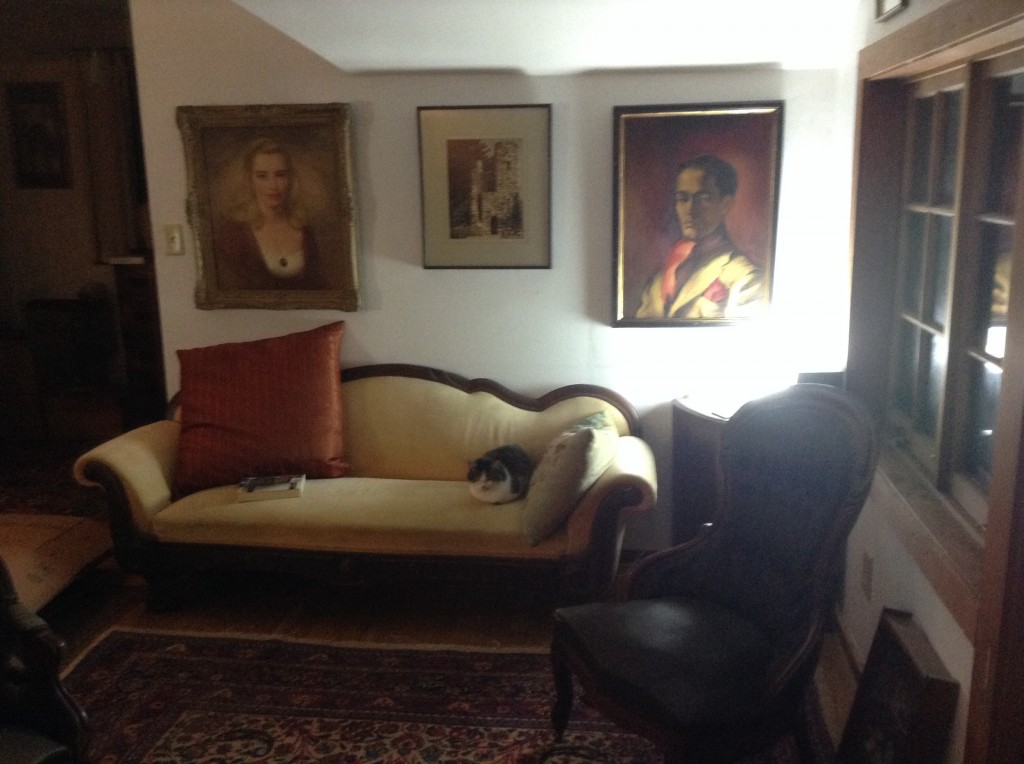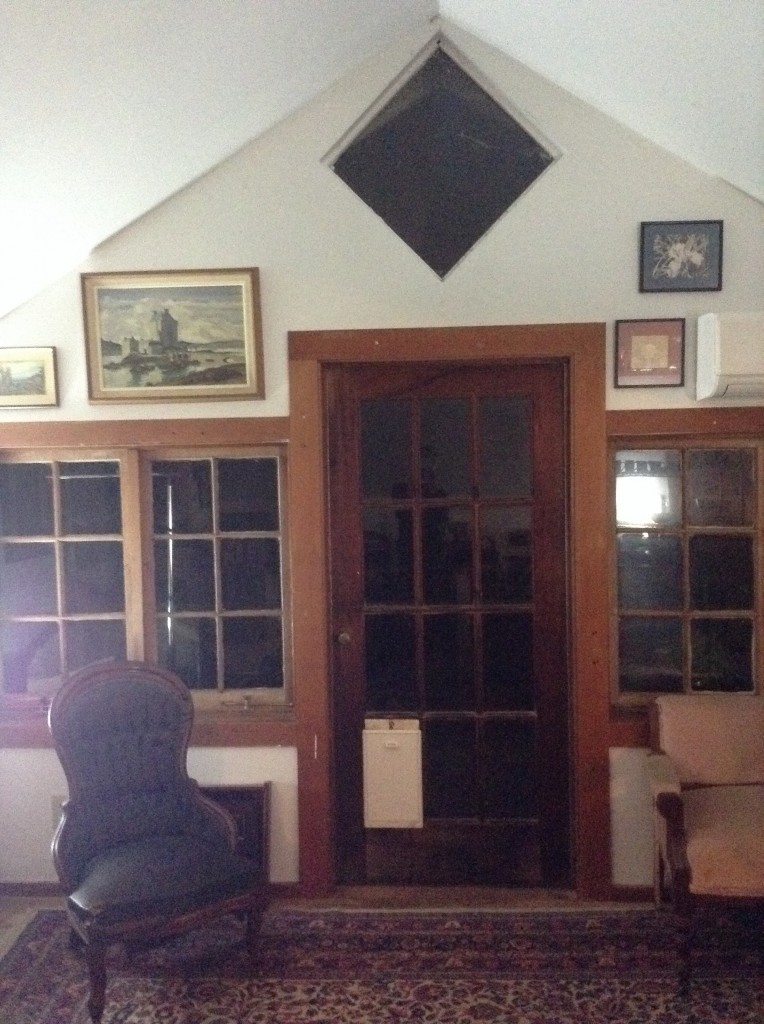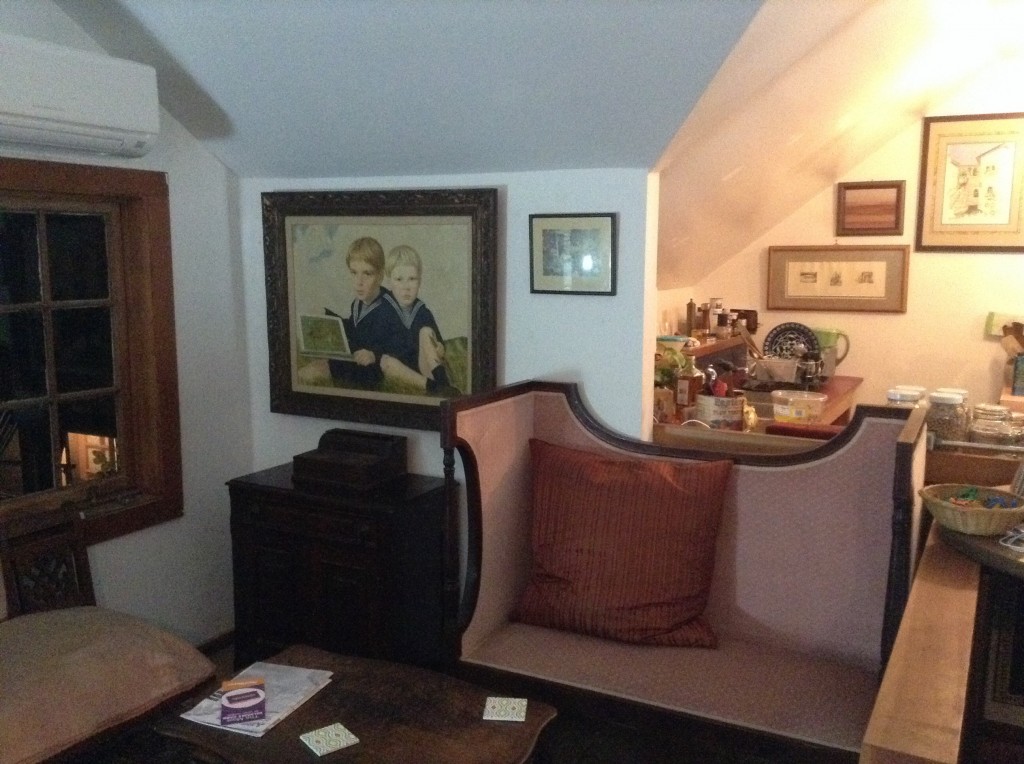 Now if I could just get it together to finish organizing kitchen and bedroom….
notices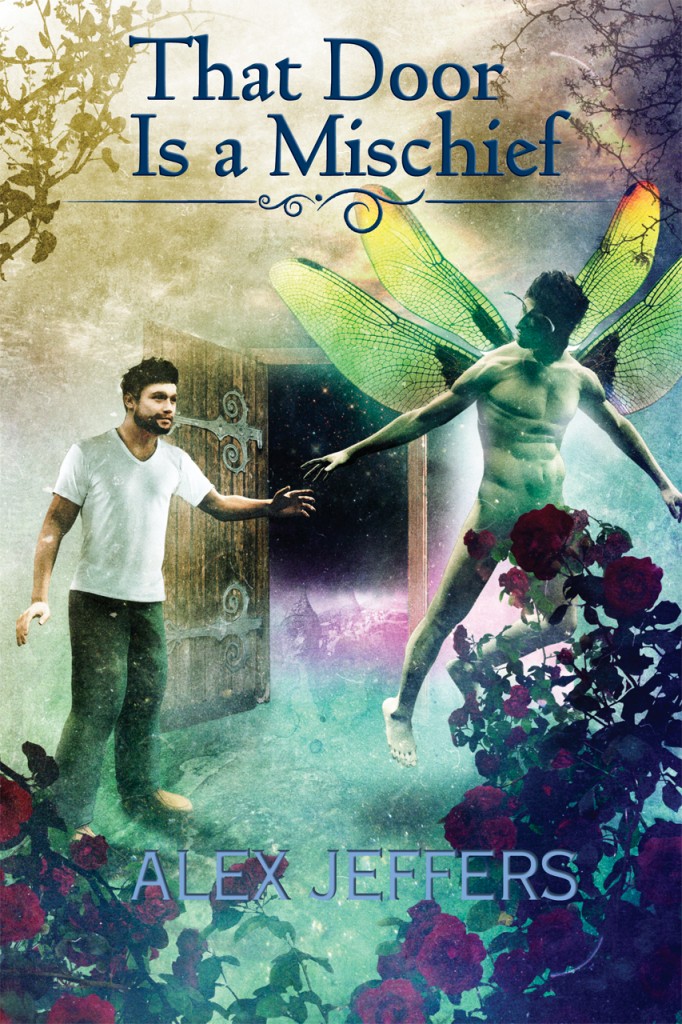 That Door Is a Mischief has received a few reviews since pub date in September. I'm particularly grateful to Hilcia at Impressions…of a Reader, who suffered a devastating loss too recently and yet has continued to read and review. She expanded a bit on her mini-review in a November wrap-up. Novelist Ajax Bell published a review on her blog that made me blink and shiver. Discovering one's work has affected somebody so strongly is sobering. Surprising me, Lambda Literary reviewed That Door only a month and half after publication (they don't have an especially good history with me, spec fic, or Lethe Press).
Writer N.S. Beranek, whose story followed mine in Best Gay Romance 2014, embarked on a major project back in January, reviewing a short story a day for the entire year. I hadn't been following her posts regularly but it turns out she's covered five (!) of my stories so far—a couple nobody's noticed—with perception and tact.
I am thankful and pleased.
thanksgiving
I ventured back to Roseburg for the holiday. I was thankful my sister chose to cook duck instead of turkey (I'm not fond of turkey), and it was lovely duck with lovely accompaniments, and an all-around lovely visit. Even though it rained the whole time. The Roseburg cats remembered me: Fritz was very happy when I ventured outside to fondle him (well, to smoke), Jüppsche and Cecelia were their usual genial (Jüpp) and skittish (Celia) selves, and beautiful Apollonia deigned to visit me in bed. Didn't stay long—apparently my hip is too boney to make a comfortable pillow—but I was charmed and honored.
writing?
Ha ha ha. Well. Maybe. The conclusion to a longish story from the Kandadal's world, begun in September '12, is nearly solid in my head, but getting the words down is the usual frustration and battle. And there's some stuff floating around that might cohere into my first science-fiction story since "The Arab's Prayer" in 2010 (published '11).
music
Mr Ivri Lider (I do go on about him, don't I?) has a new studio album due in February. In the last few weeks he's dropped two tracks onto YouTube and the usual online marketplaces. I like them both. A very great deal.