Last evening in New York (while I cowered under the blankets in Rhode Island: second week of persistent migraine aura), my friend Sandra McDonald (who wasn't in attendance either) won the Lambda Literary Award for LGBT SF/Fantasy/Horror with her luscious, enigmatic, and spectacular collection Diana Comet and Other Improbable Stories, which you should buy and read right fast if you haven't already. If you don't love it, you are no friend of mine.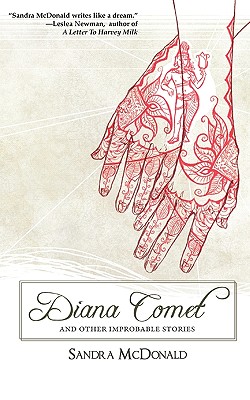 Sandra's was one of five titles on the (actually very long) Lammy short list with which I had some pre-publication involvement. I designed two of the Gay Erotica finalists—Tented, edited by Jerry L Wheeler; and A Twist of Grimm by William Holden—and one of the SF/F/H titles—Disturbed by Her Song by Tanith Lee, writing as and with Esther Garber and Judas Garbah. Less visibly, I copyedited/proofread Wilde Stories 2010, edited by Steve Berman, and Diana Comet. Naturally it was not possible for all of them to win. Nevertheless, I'm delighted the judges had the excellent taste to honor one of my two favorite books of last year.
Now you'll have to excuse me: I have the MS of Sandra's newest novel waiting to be read….