Nicolas Rathe and Philip Eslingen are back! And I am really very extremely pleased to be involved in their renascence.
Point of Hopes, the novel in which Rathe, Eslingen, and the great city of Astreiant were introduced, was the second collaboration of science-fiction novelist Melissa Scott and her partner, Lisa A. Barnett, following by several years and solo Scott novels The Armor of Light, their dazzling alt-history fantasy of an Elizabethan era in which neither Sir Philip Sidney nor Christopher Marlowe died untimely but allied to defeat a magical threat to the kingdom.
First published by Tor in 1995, Point of Hopes is rather a different animal, a pure secondary-world fantasy of a peculiarly solid, matter-of-fact sort. This is a world that feels, as Booklist's review of the first edition put it, "lived in." It's a world lit by two suns—the familiar day-time primary and the smaller, more distant winter-sun—in which astrology, alchemy, necromancy, and other magical disciplines are demonstrably science, every great household employs a wizard (or magist, in the novel's terminology), and nobody would risk making a major decision without first consulting her horoscope.
And yet it's the farthest place from the idealized, romantic, sorcerous Age of Heroes of Tolkien and his innumerable followers. Middle Earth is a lovely place to visit but it's not anywhere you, as a reasonable human person with human needs and desires, could live. The city of Astreiant, the nation of Chenedolle of which Astreiant is capital, Chenedolle's immediate neighbors and distant trading partners, all possess the qualities of actual places with working economies, histories, technologies. (My guess—probably wrong—is that Astreiant's models were the wealthy mercantile cities of the Burgundian Low Countries in the early Renaissance.) Life would be hard in Astreiant for a refugee from twenty-first-century USA but not especially harder than in Elizabethan London and conceivable in a way that acclimation to daily life in Minas Tirith or the Shire, it seems to me, is not. Indeed, for women and queer people, Astreiant has multiple advantages over our own time in that, without any fuss at all, Scott and Barnett have imagined societies in which gender equality is the norm and minority sexualities no big deal.
Refreshingly furthermore, although Chenedolle and other nations naturally possess entrenched aristocracies, nearly all the principal characters in Point of Hopes are ordinary people—not quite middle class, largely because an Astreianter middle class hasn't quite evolved yet. Ladies and lords are, as they would be for you and me, distant glamorous figures who make you self-conscious about your second-best coat and unpolished manners when the course of events brings you into contact with them. Neither Rathe nor Eslingen are hidden heirs to any kingdom nor potential heroes of the humble-hobbit-turned-Savior!-of-the-World! variety. They do their jobs as best they can, worry about money and laundry like you and me, live their mostly ordinary lives without expectation of being extraordinary. Which, of course, makes them all too extraordinary in fantasy-land.
Nico Rathe is a pointsman, member of a kind of city guard or police force that's grown up in the various districts (points) of Astreiant, charged with maintaining public order and investigating crimes. Only a century or so since the institution's establishment, pointsmen are still regarded with suspicion by the city people whose business they're likely to interfere in and the nobility, fearful of erosion of their privileges. Meanwhile, Philip Eslingen, a mercenary from Chenedolle's traditional enemy, current ally, the League (a loose confederation of independent city states, apparently), is paid off at the end of the campaign season and looking for work to keep him through a winter in Astreiant, where foreigners are less trusted than pointsmen.
The plot of Point of Hopes involves the mysterious disappearance of scores of Astreiant's children and an alchemical conspiracy in support of one candidate for Chenedolle's childless queen's throne. It's an excellent, clockwork plot, and grand fun to watch it working out, red herrings, detective work, adventurous rescues, and all. But for this reader the real joy of the book was the picture of a fully realized, working secondary world—and the pleasure of making Rathe's and Eslingen's acquaintance, for they are lovely, solid, imperfect men.
Point of Hopes was followed by Point of Dreams (also Tor, 2001), set largely in Astreiant's theatre district. I haven't reread it as recently as Hopes—this will be remedied soon!—but as I recall the plot was smaller scale though no less satisfying and the new corners of Astreiant fascinating to explore. The big surprise was discovering Rathe and Eslingen to be acknowledged lovers now, not so many months after the end of Hopes when they were merely good friends and accidental partners in adventure who had (subtly, subtly) admitted an attraction between them. At any rate, I enjoyed Dreams a great deal and resigned myself to waiting another six years for the next Point.
Very sadly, that was not to be. Barnett was diagnosed with cancer in 2003 and after a long, hard fight died in 2006. Tor ceased releasing a new Scott novel just about every year. As best I could determine (admittedly I didn't try that hard), Scott fell completely silent—understandably!
Then, 'round about the time I became inextricably entangled in the webs of Steve Berman's Lethe Press, Steve announced he would be reissuing Scott's Lambda Literary Award-winning science fiction novel Shadow Man, although he didn't ask me to design it. Nevertheless, I perked up, very happy to see that fine, extremely peculiar book rescued from out-of-print oblivion.
Two and a bit years later, after negotiations I don't pretend to know anything about, huzzah!, Lethe is also rescuing Nico Rathe, Philip Eslingen, and Astreiant.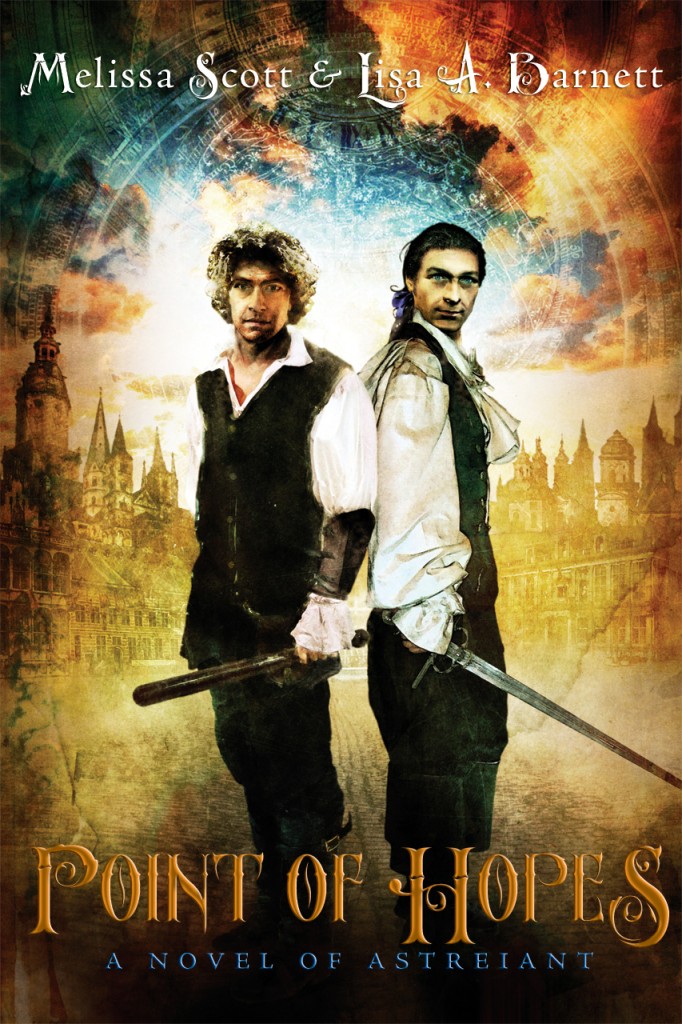 Spectacular cover art by Ben Baldwin; cover layout and interior design by me. I uploaded files for the dead-tree edition to the printer earlier today; that and various e-book formats should go on sale within a few weeks.
But that's not all! Steve confessed feeling a dreadful disappointment, when Point of Dreams was first released, about not getting to witness the beginning of Rathe's and Eslingen's non-working relationship, skipped over in the interval between Hopes and Dreams. And so Melissa Scott took herself back to Astreiant, bittersweetly solo, to write Point of Knives, a savory novella which, in the interstices of another tricky case for Adjunct Point Rathe and his ex-mercenary sidekick, shows exactly that. And, incidentally, Rathe's transfer/promotion from Point of Hopes to Point of Dreams, something that was rather glossed over in the second full-length novel.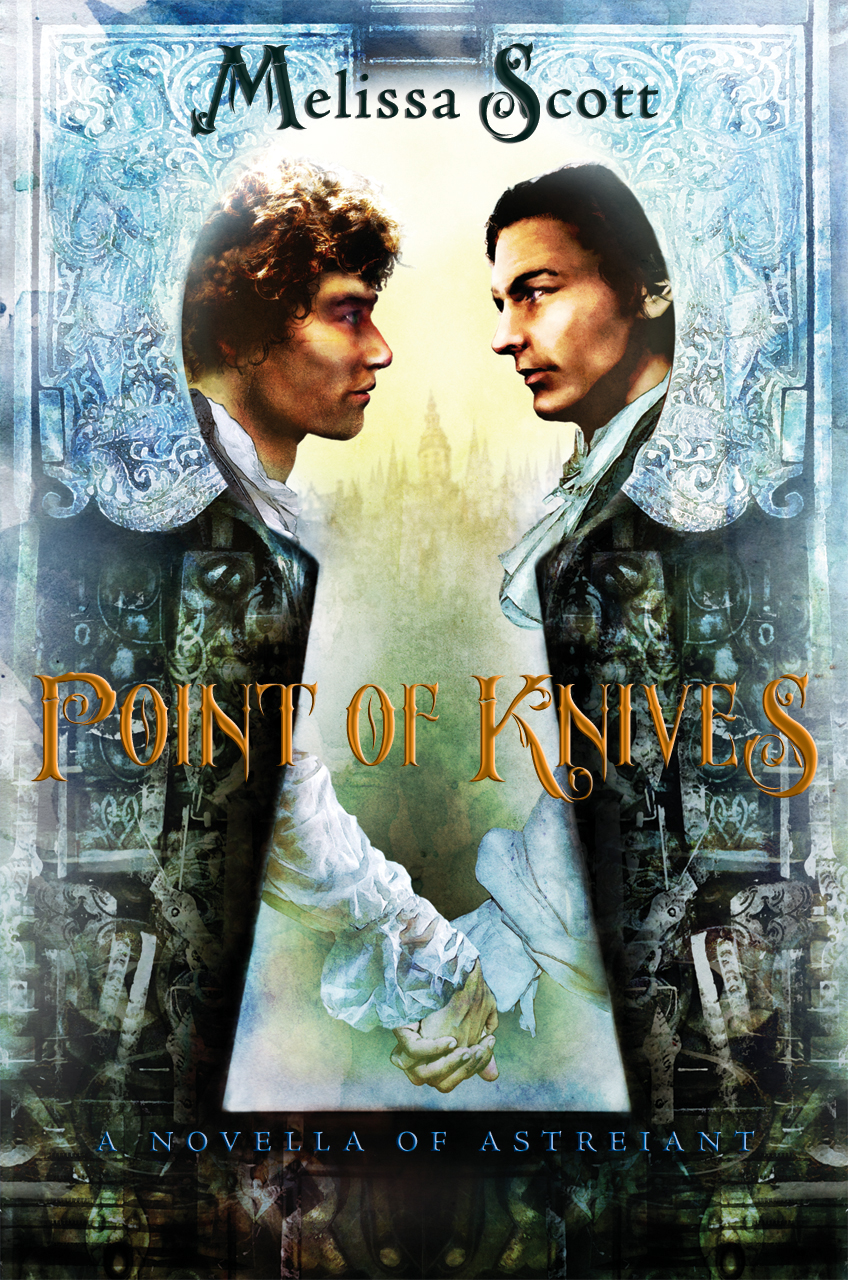 Another spectacular piece by Ben Baldwin.
Point of Knives is scheduled for release this summer, followed in the autumn by Lethe's new edition of Point of Hopes. Rumor has it we can expect the fourth Book of Astreiant, Fairs' Point, next year. I'm pretty damned impatient, let me tell you.
---
On a self-involvedly personal note, the other day I received You Will Meet a Stranger Far from Home's second blurb. Christopher Barzak, author of the widely acclaimed novels One for Sorrow and The Love We Share Without Knowing, writes:
Step onto this flying carpet and prepare to be carried away to exotic times and places, where Alex Jeffers has set up camp to tell his tales to both those already familiar with his wonderful wonder stories and to those strangers who happen to be passing by.
And I am within spitting distance of completing a draft of "Seb and Duncan and the Sirens," a longish story begun over a year ago, set aside several times, but now (foolishly) promised to Somebody (he knows who he is) by month's end.