Oh, hello.
After a very long time—or so it seems—my third novel, That Door Is a Mischief, is just about to go to press. As any thoughtful writer will tell you a book is never actually finished but this one's about as done as I can make it before the announced publication date. Long stretches of the last three days have been preoccupied with going through the proof one last time (pruning commas, mostly) but this morning, resigned, I created final files for the printer.
So. That announced publication date is 15 September. Possibly the print edition will go on sale a bit earlier. For complicated reasons beyond Gentle Publisher's control, I'm afraid the e-books will be delayed, maybe as long as a month. Apologies to them as prefer their books readable but not touchable.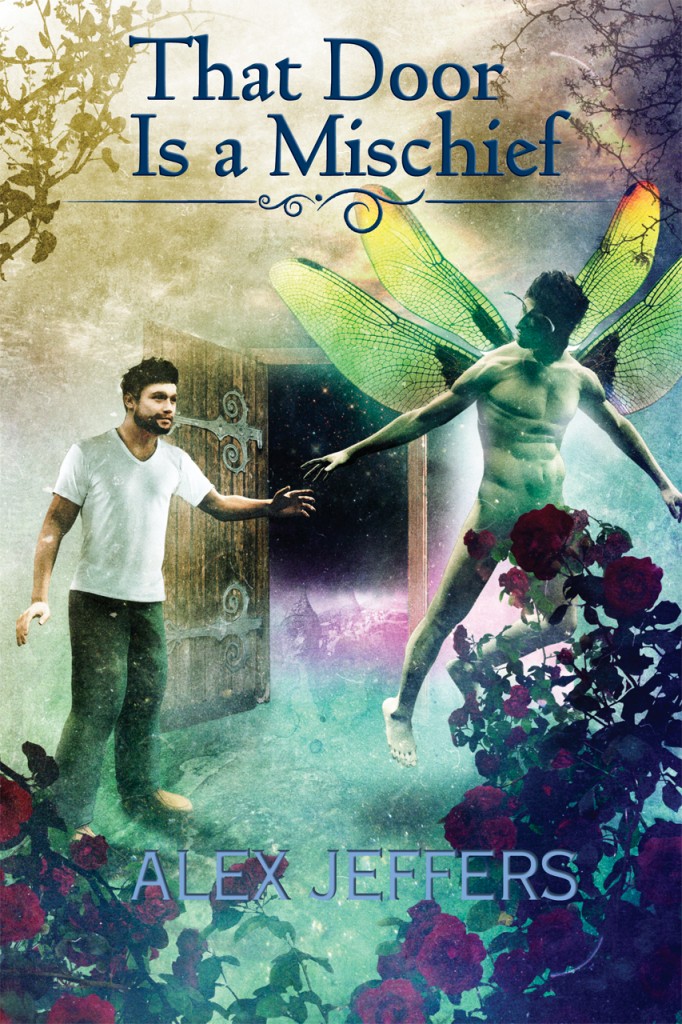 Advance reaction has been gratifying. Well, there was a rather negative review in one of the industry's trade journals. I'm not about to link to it but, truthfully, I found it amusing. The underpaid anonymous reviewer misunderstood what I was doing partway through and ran with that misunderstanding, irredeemably distorting her reading of the novel's latter half. These things happen.
But other pre-pub readers have been outrageously complimentary. You can see the flyleaf blurbs on the dedicated page linked above but these two I especially treasure:
Melissa Scott—"In this story of a fairy child adopted into a gay family in our own world, Jeffers slides seamlessly between impossible and all too probable, creating both in luminous, extraordinary prose. This is a novel of aching love and perfect loss, amazing and utterly unforgettable."
Jeff Mann—"What a beautiful, beautiful book this is: haunting, romantic, powerful, and perverse. Alex Jeffers is an amazing storyteller and a master stylist."
---
And so, what else has Jeffers been up to since last seen in these parts?
Not writing, I am not acutely sorry to say. These past two months it's seemed more crucial to learn (or learn again) how to be a proper person with a loving family, caring friends, and benevolent acquaintances. Working a little, relaxing and reading a lot, seeing the sights, devouring my sister's delicious meals. Comforting my own dear Charlotte and Jane, locked up together (horrors!) because they, unlike the resident familiars, have never been indoor-outdoor cats and are very poorly socialized. Gradually making friends with said resident cats and marvelling at the chickens (and rooster!). Opening a local bank account. Briefly succumbing to extravagance after long deprivation: new dishes I didn't really need, a grill pan I really did.
But tomorrow! Tomorrow I will begin searching in earnest for a place of my own…and then we'll see.