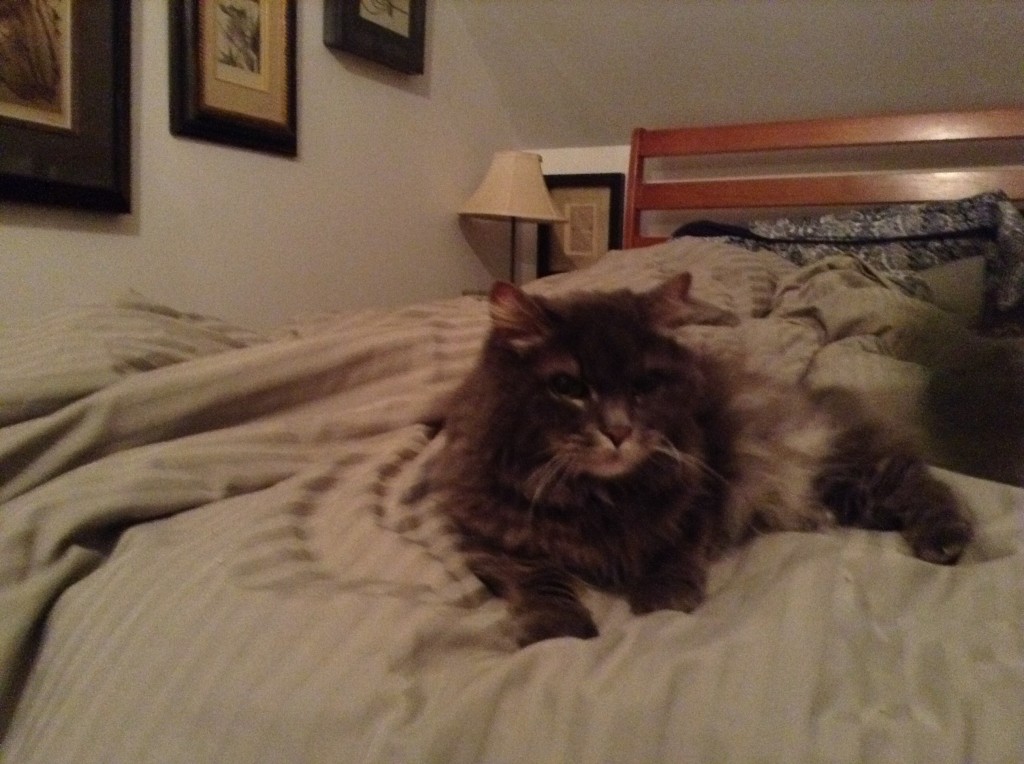 I went away for a week. A road trip with my sister to the Monterey Peninsula of California. The occasion was the annual spring garden-party fundraiser for the Robinson Jeffers Tor House Foundation, which maintains and preserves the house my grandfather built, where we grew up. We met up with our elder brother, who keeps a pied-à-terre in Monterey, as well as his son, whom I hadn't seen in (we determined) some twenty years, our youngest brother, and his wife. The garden party—and exploring Carmel-by-the-Sea for the first time in twenty-odd years, discovering how drastically it's changed for the worse—was a bit much for me and I fell apart some on the drive back to my sister's house in Roseburg this past Tuesday. Fighting a persistent headache and mild PTS on the road, I contemplated the post I would write after I got to Eugene—although it would mostly be photos of childhood house-, garden-, and landscapes (I took a great many photos). That post and those photos may yet appear but not just now.
There were two options for care of Misses Charlotte Brontë and Jane Austen while I was gone. My brother-in-law, staying home in Roseburg, offered them the guest room and his supervision. That would require a traumatic hour-long ride in the car, though, as well as being locked up in a room my ladies were happy to leave behind last autumn.
Less disruptive to their peace of mind, I felt, was to ask the tenant in the main house here, who keeps up the impressive vegetable garden below my second-floor deck, to come up every day or two to top up Jane and Charlotte's water and food bowls. Jon agreed to do so. I didn't ask him to do anything about my container garden on the deck—it seemed an excessive imposition, the long-range forecast predicted episodes of rain, and I figured the plants could make it through. (Spoiler: they did.) But if I had asked, I would surely have remembered to tell Jon the latch on the French door to the deck is tricky and not to be trusted.
It was not at all surprising, when my sister and I finally tromped up my stairs mid-morning on Wednesday, that neither cat showed her face. They're even more poorly acculturated and distrustful of strangers than I. Their litter boxes were well used and there were tufts of Charlotte's fur all over the dining table: I had asked her any number of times not to sleep there. Speaking to the air, I told them I was home at last and the terrifying ogre with me (my sister) wouldn't stay long.
I'd picked up a handsome lavender at a nursery in Carmel Valley—my seventh variety, Lavandula x. heterophylla—and carried it out to the deck, meaning also to show my sister the nasturtiums I'd started from seed for her own deck back in Roseburg. Jon was in the garden below. He called up, concerned, to ask if I'd seen my cats.
I said no but that I wasn't worried because I knew them, but he went on to say he'd wandered onto my deck the day before. He knew he'd closed the door behind him but when he came up that morning he'd found it open. Of course he hadn't seen Charlotte or Jane (I'd warned him he probably wouldn't) but he was worried they might have ventured out.
I waved his concern off. Both cats had been out on the deck a few times, I told him. Both had discovered how easy it was to gain the roof and clamber around exploring but neither, I felt, was daring enough to attempt an eight- or ten-foot leap to the ground. In any event, the fault was mine: I hadn't told him about the door.
Jane poked her head up from her hiding place under the bed when we came back inside and hissed at us. I took that as a sign all was well, and my sister and I went off to do a little shopping—there's no Trader Joe's in her town! Returning after an hour or so, we startled Jane again, who hissed, snarled, retreated under the bed. Still no sight of Charlotte, but she's always been the more timid of the two and the better at hiding. We poked around a bit—there's an opening to the space under the eaves behind one of the kitchen counters, inaccessible to full-size human people, a hidey-hole Charlotte's taken advantage of before—before deciding she was unlikely to show herself so long as the ferocious ogre remained. So I sent the ogre on her way, assuring her that even if Charlotte had ventured outside and onto the roof overnight she would surely come down once she realized I was home and the apartment empty of other monsters.
Only she didn't.
Still not terribly worried, I set out food and water on the deck to remind her of the comforts of home and puttered a little, overwatering the pots and talking to Charlotte, telling her how wicked she was but that all would be forgiven as soon as she showed her face.
Going back inside, I searched more concertedly, even going down on my belly to stick my head and a flashlight into the space beneath the eaves. No Charlotte. By this time Jane had regained her form, following me around, so I cuddled her for a while, asking vainly where her sister had gone. Jane is not fond of Charlotte and wouldn't tell me.
By now it was nearly sunset. I wrote my sister a plaintive e-mail—
Not to keep you in suspense: no sign of Charlotte yet. I'm relatively sure at this point she's not in the apartment. If she stayed on the roof I'm sure she'll show up eventually; I've put food and water on the deck to encourage her. If she got down to ground level somehow…I just don't know. She has no reason to understand the door is her door. I'm just going to take a walk around the neighborhood before it gets dark, and then I'll post something on craigslist.
—and indeed walked around the block and the back forty calling, then put up a missing cat notice on craigslist. Jane had taken to yelling at me. Her meow is strident and piercing and thoroughly unnerving. Whenever I went downstairs to the bathroom she followed and yelled outside the door. After dark she sat on the chair by the deck door, periodically shouting while staring at the door. Every time I jumped up and checked, but no Charlotte. Despairing, I put bowls of food and water outside the front door just in case, prepared a dinner I couldn't taste, and went to bed. Jane snuggled me all night, not as much comfort as it should have been.
Thursday morning I was half-relieved to discover the food bowl by the front door empty. Only half-relieved because it could have been any of the local outdoor cats or the two opossums I've seen fossicking around Jon's garden at twilight. I put out more food and water anyway. Jane was still yelling every time I moved. I was a wreck. Luckily some work had piled up while I was away, providing distraction for most of the day. I alternated cigarette breaks on the deck, in the carport and driveway downstairs, and the back forty, calling Charlotte and telling her how much I missed her and how worried I was.
After another difficult night with only Jane to cuddle (she was somewhat more amenable to the indignity than usual), on Friday my brother-in-law drove up to Eugene for his weekly life-drawing sessions at Maud Kerns Art Center. He took me out to lunch to buck me up and offered advice gained from nearly forty years of slavery to indoor-outdoor cats. Crucially, as it turned out, the suggestion that a frightened cat would go to ground during the day so daylight searching wasn't likely to succeed. Hypothetical frightened cat would more probably venture out at evening and night.
I waited impatiently for sunset. It comes too late at this season and latitude! (Not at all a thing I object to under other circumstances.) At twilight I tried again, going up and down the driveway and around back of the house, calling my runaway until despair made me cry and I had to retreat indoors to appease Jane, yowling inside the front door.
Around 11:30 I took my cigarettes, ashtray, and a sorely ineffective flashlight out to sit on the bench by the front door. I talked to Charlotte while I smoked, though I'd nearly given up hope. Anxious and antsy, I walked up the driveway to the street. Coming back, I heard a noise: Charlotte's inimitable call, half cough, half bark—no meow about it and never loud enough to hear from any distance.
Falling to my knees on the tarmac, crying ugly tears, calling her, I turned the flashlight toward the noise. She sauntered into the flashlight's anemic beam from the direction of Jon's front door, talking all the while. But wouldn't come to me. I knew better than to lunge. In the most ordinary circumstances Charlotte's prone to bolt if I move too suddenly. Five feet away, she turned aside into the lumber of…lumber and set-aside patio furniture and I don't know what stacked untidily along one side of the carport, vanishing from the flashlight's ken.
But still talking, as I kept talking. After five minutes at this impasse, I told her I was so relieved and happy she was alive and mobile, so anxious and heartbroken she wouldn't come to me that I needed a cigarette and maybe she'd relent and approach me if I retreated to the bench by the door.
No such luck. I kept talking, Charlotte kept answering—preoccupied and grumbly—and Jane inside the door caterwauled. While I smoked anxiously I fiddled with the flashlight, trying to get it brighter. Somehow I succeeded (the battery contacts hadn't been tight enough until I unscrewed and screwed the cap three times?) and returned to the pile of junk. There she was, half-hidden by a length of wooden lattice, just her back and thrashing tail, no more than a foot and a half from me.
Murmuring soothingly, I reached around the lattice and got hold of her scruff. She was not happy to be hauled out of her hiding place, hugged, and wept over. Inside at last, she scratched my arm viciously until I let her down, then disappeared under the bed, grunting and cackling with fury.
Eventually—after I'd called Roseburg, waking my brother-in-law with the news—around 1:00 AM, she emerged, hopped onto the bed, and allowed me to make friends again. Never have an extremely loud purr and a tummy snarled into mats and dreadlocks (I promised I wouldn't attempt brushing her for a few days) been more comfort. She even stayed on the bed all night, something she never does, if not right at my side. That space was occupied by jealous Jane, who has mostly stopped yelling at me, thank merciful and compassionate God.
::goes to install hook-and-eye fastener to deck door::