Long ago when the world and I were young, carefree—before mobile phones and e-readers and the World Wide Web, almost before personal computers (a decade before I acquired one of my own)—I worked in a public library. For the greater part of that tenure, I was the drone who made sure all the new books the professional librarians recommended were promptly ordered and added to the collection. Among the wonders of that job* was license to study the review journals on which the librarians based their decisions. Committed readers may recognize the names of some of those journals attached to fulsome praise on the covers or flyleaves of their favorite books:  Publishers Weekly. Library Journal and its younger sibling School Library Journal. Booklist. Kirkus Reviews.
In library, bookselling, and publishing circles, Kirkus particularly is renowned for the gleeful savagery of its judgments. Its takedowns were often a sheer, mean joy to read. I can still feel the tingle of outrage and delight when one of my pro-librarian friends brought to my attention Kirkus's brutal evisceration of 75% of an anthology containing an early story of mine. Alas that I can't quite recall the vicious half-sentence devoted to my piece—only the demoralizing fact I rated just half a sentence.
I better remember the oddly pleasurable disappointment I felt years later when I understood Kirkus had entirely ignored the first edition of Safe as Houses. How vicious will they be? I'd asked myself again and again. So cruel they declined to recognize its existence!
All of this is preamble to announcing that Kirkus has reviewed my long-delayed second full-length novel, Deprivation; or, Benedetto furioso: an oneiromancy. And…and I am bewildered! The anonymous reviewer isn't savage at all. I could wish three tiny errors hadn't been made [it's Ben's small apartment in Providence; the man's name is Paolo and he taught Italian] and the review is almost uncomfortably perceptive, but really, really, I'm shockingly pleased.
Fascinated by an idealized version of Italy he imagines from literature and art, a young gay man goes through the motions of a mundane life in the 1990s, while sleep deprivation causes vivid dreams that blend strangely with reality.

Jeffers' fuguelike story elevates everyday people and places to the fantastical with beautifully evocative language and detailed descriptions. … At the same time Ben is perhaps creating these people, they help define him. Everyone seems to have moments when they're real and moments when they're fantasy; even dreams have agendas and needs to push upon Ben. … An exquisite flow of language ensures that the narrative doesn't get lost even as Ben drifts.

A gorgeous journey to nowhere.
The full review won't go live for non-subscribers to Kirkus until two weeks before publication, but here's a link to where it will show up. Lethe Press will release Deprivation in two and a quarter months, at the end of February, 2013.
*I'm not going to lie. The opportunity to buy books for myself at library discounts was the very best part.
---
In other news, I guess I'm announcing a majorish project that may or may not work out.
And here is the cover of Wilde Stories 2013: The Year's Best Gay Speculative Fiction, in which my novelette "Tattooed Love Boys" (originally published at GigaNotoSaurus last spring, then in You Will Meet a Stranger Far from Home) will be reprinted. Forthcoming from Lethe Press in mid-June.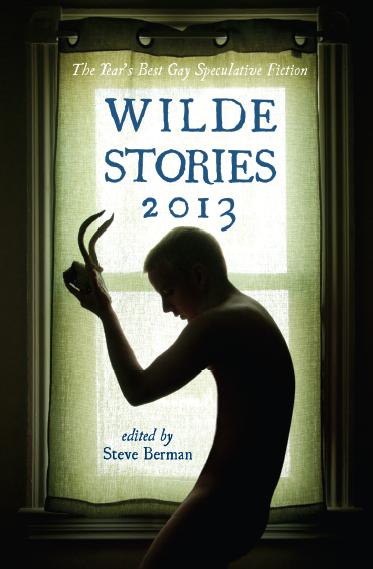 Photo by Rob Lorino, layout/typography by me.