Holding out on us, AX? When did you write this one?
In 1995, hah!
So, see, well, I've been anxious and depressed. Blue…deep dark navy-blue funk. A stack of reasons besides faulty brain chemistry, most of which I see no need to burden you with but one germane: the writing. Rather, the not-writing. The pile of really goddamn promising stories that have hit their walls and will not progress, plus, you know, the novel I meant to spend the summer revising. Augh. So I've been flailing about, not writing.
Gentle publisher and I have it in mind to put out another collection of wonder stories next year maybe, this one to include some of ye olde stuffe. Fiddling with the table of contents for that, I went fossicking through a few antique floppy disks (remember those?), on one of which I rediscovered an eighteen-year-old novella that was only ever published in severely abridged form, in a book long out of print issued by a publisher long defunct.
It's erotica. Well, porn, to speak plainly. A genre I think I'm not especially known for—I can count the number of porn stories I've written/published on one hand. (See what I did there?) Largely unmemorable, I'd say, even so far as porn can be memorable. With the apparent exception of this one.
Couple of years ago, out of the blue, soon after this iteration of sentenceandparagraph.com went live, I received fan e-mail from an expat Scot in the Canary Islands (lucky bugger). Not, as I might have half expected, about Safe as Houses or Do You Remember Tulum? No. Mr Damon Shaw of Lanzarote wrote: Of all the stories you have ever written I bet this isn't one you were expecting to get mail about.
Damn right it wasn't.
Since that e-mail of February 2011, Damon and I have become friends—long-distance electronic friends. He's a spec-fic writer himself and you should look his stories up. He gave aforementioned novel a thoughtful, welcome critique when nearly everybody else exclaimed no time! no time for 144,000 words! We've even shared a TOC: his charming little "Air Tears" appears in The Touch of the Sea (Lethe Press, 2012) along with my "Ban's Dream of the Sea" and nine other fine stories.
At any rate, when I ran across the ancient Microsoft Word file on that floppy, I recollected Damon's e-mail and thought, Hmmm. At least one person besides the editor who bought it (one Michael Thomas Ford—you've heard of him) liked that. Let's take another look. And…
…and it's still porn, not that there's anything wrong with that, but porn isn't particularly something I want in a collection of wonder stories. Although it is, in its porny way, a wonder story itself: a re-envisioned Turkish folk tale. But it's also far too long too cram into a collection, a third again as long as the version Damon read so long ago and recalled.
Just about as long as Do You Remember Tulum?
Uh, said I to Gentle Publisher. Uh? And Gentle Publisher said (paraphrase), Huh. Untapped audience for you.

Coming from Lethe Press this autumn—like, gasp, next month!—The Padişah's* Son and the Fox, an erotic novella, complete and unabridged for the very first time. Not unexpurgated because it was never expurgated to begin with. The abridgment was a matter of excising the frame story.
[*Listed with booksellers as "Padishah's," because, you know, freaky non-ASCII character!]
I've revised it some (although for once allowed the majority of the semicolons to stand) and expanded one scene. Fortuitously, I just discovered Lebanese alt-rock band Mashrou' Leila (thanks, Guardian.co.uk!), whose concert at the Paléo Festival in Switzerland last summer, complete on YouTube, provided a stirring soundtrack. What a voice Hamed Sinno has.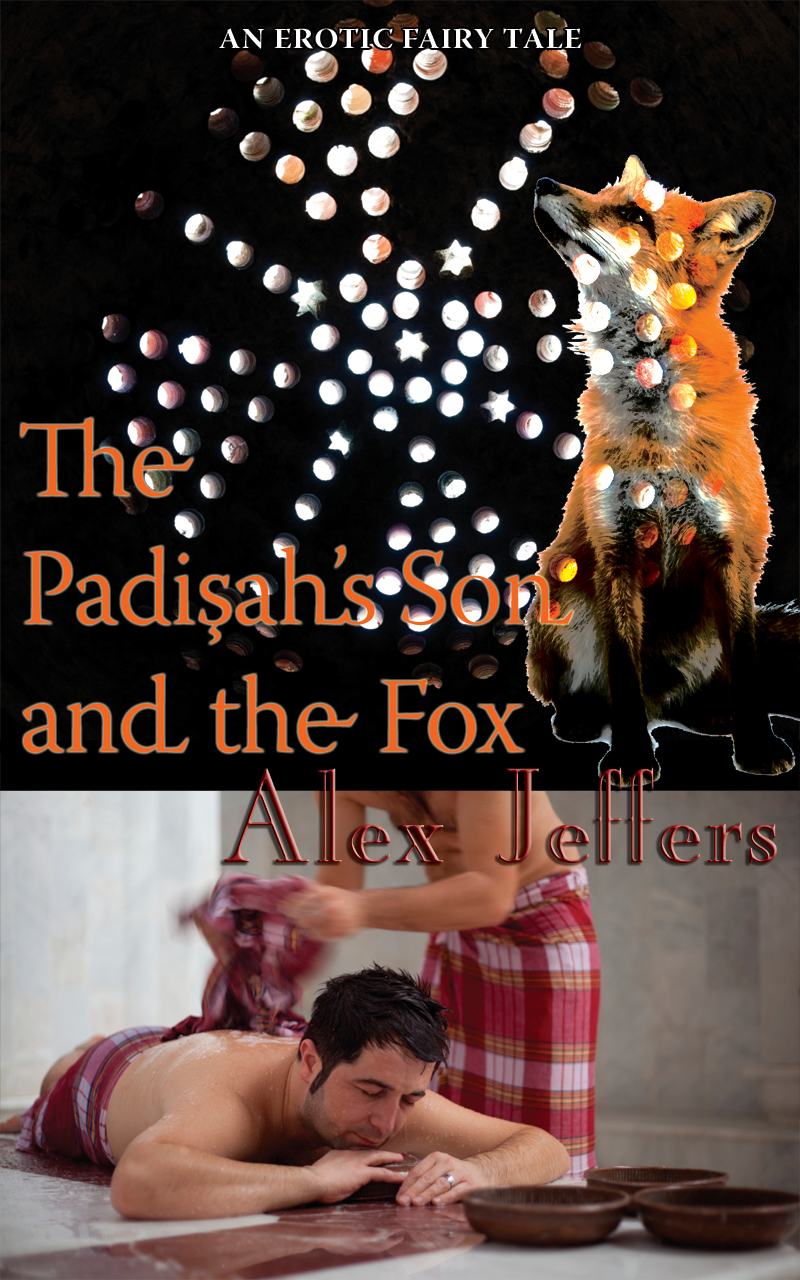 An erotic fairy tale from the acclaimed author of The Abode of Bliss and Deprivation.
In a Turkish prison on the Black Sea coast, a lifer known as Yamyam—the Cannibal—whiles away tedious days and nights retelling old folk tales to the other inmates. But on this day, as Yamyam and naïve young drug dealer İzzet clean the prison's Turkish baths, Yamyam's tale goes twisty—far removed from the stories he heard at his mother's knee.
Yamyam's tale of a prince and an enchanted fox is engineered for seduction, as young İzzet sets out on his quest for the magical caged dove that will cure his father's blindness. In a strangely deserted city, the prince and his wicked little brother will encounter the lustful, ravenous giant who ate the city's entire population…after raping all the men and boys. İzzet will discover the depths of his brother's and the giant's perversity, and encounter a talking fox and (in his dreams) the handsome lover he never suspected he yearned for. He will embark on further quests—to the land of the giants, the mountain of lions, and the palace of the tricksy peris. Following the fox's sage advice, he will triumph in all his endeavors, until his vulpine friend sets him the hardest task of all.
Meanwhile in the prison baths, the yard, his cell, Yamyam's tale goes on as he and İzzet negotiate the terms of their relationship. Can a murderer who's never heard the word gay be any man's lover? Can a youth raped on his first night in jail learn to trust the man who desires him?
---
Now back to that pile of, erm, promising stories….