Multiple Lambda Award-winning writer Michael Thomas Ford—most notorious, perhaps, for the essay collection Alec Baldwin Doesn't Love Me and its sequels and the multi-volume Jane Austen-as-vampire spectacular commencing with Jane Bites Back, but treasured as well for many other books of fiction and non-fiction for adults and young people—has this to say about The Abode of Bliss:
Waiting fifteen years to read something new from Alex Jeffers was well worth it. This collection is a treasure chest of perfectly-polished gems, each one radiating an inner beauty brought out by evocative prose, rich characterizations, and a strong sense of place. A rare treat indeed, it is over all too soon and leaves you longing for more.
Can anybody see how hard I'm blushing?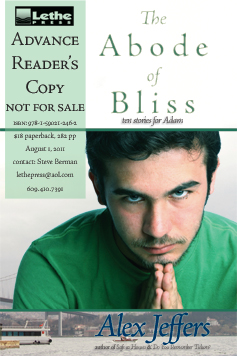 Advance Reader's Copies (ARCs) of Abode are beginning to be distributed. Maybe I'll hold a competition to give one away to an adoring fan? Don't all comment at once!
---
M-Brane SF Quarterly #2, the print compendium of issues 22 (November 2010), 23 (December), and 24 (January 2011) of the e-zine M-Brane SF, is now available, featuring some additional material not seen in the monthly e-issues. Now you can own your very own hard copy of my short science-fiction story "The Arab's Prayer" from 24.
---
Elisa Rolle, a major opinion setter in the fascinating and occasionally terrifying (to gay male writers) world of M/M fiction, has posted a flattering (if slightly bewildered) review of Do You Remember Tulum?, for which I am grateful.
---
Those blushes may actually be fever. I have a miserable cold and must go back to bed with a posset or something. Whiskey, maybe.