BrazenHead's corporate overlord recently embarked on a project to get many (most? all?) of Lethe Press's and its imprints' titles turned into audiobooks. I'm tickled to announce that Eat Your Heart Out by Dayna Ingram, BrazenHead's brilliant first release, which Publishers Weekly called "ridiculously entertaining" in a Starred! Review!, is now one of them.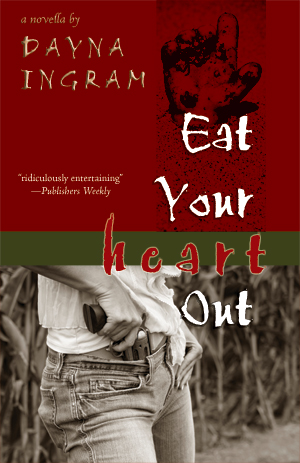 If you have forgotten what a delight Dayna's little book is, here's a sampling of praise:
This book is a double scoop of melt-in-your-mouth guts-and-brains-flavored ice cream with a pop culture cherry on top, in a word: yummy! Eat Your Heart Out announces with a guttural zombie howl that Dayna Ingram is a talent to watch out for.
—Tom Cardamone, author of Pumpkin Teeth and Green Thumb

Despite sounding like clichéd fanfiction written by a horny devotee, "Eat Your Heart Out" is tender yet ruthlessly gruesome.This sweet zombie novella needs to be made into an A or B movie…right now.
—Katie Drexel, Edge network
With a dry wit and a sense of the absurdity of the situation (zombies? In the middle of Ohio? Who would notice the difference?), author Ingram keeps the action brief and the tale short enough to avoid indulgence. It's a romp you can sink your teeth into.
—Jim Provenzano, Bay Area Reporter
And here's a link to purchase and download the audio file from Audible.com. (Other e-sellers may have it as well, I'm not sure how these things work.) Go thou and do so! Listen on your tedious commute! Or better, on your daily run…imagining Dayna's zombies chasing after you. What better motivation could there be?