Today was meant to be the release date for M-Brane SF Double #1, partly in honor of the birthday of Jeff Lund, who created the nifty cover art and who puts up with M-Brane publisher Chris Fletcher on a daily basis. Alas, the coincidence of a tiny glitch in the cover layout (not Jeff's responsibility) and the long Memorial Day weekend has caused a delay. A week perhaps. Which may mean the pre-publication special is still open: the print Double plus a passel of electronic-form M-Brane merch, all for the low low price of $14.95. Why not head over to M-Brane Press and try?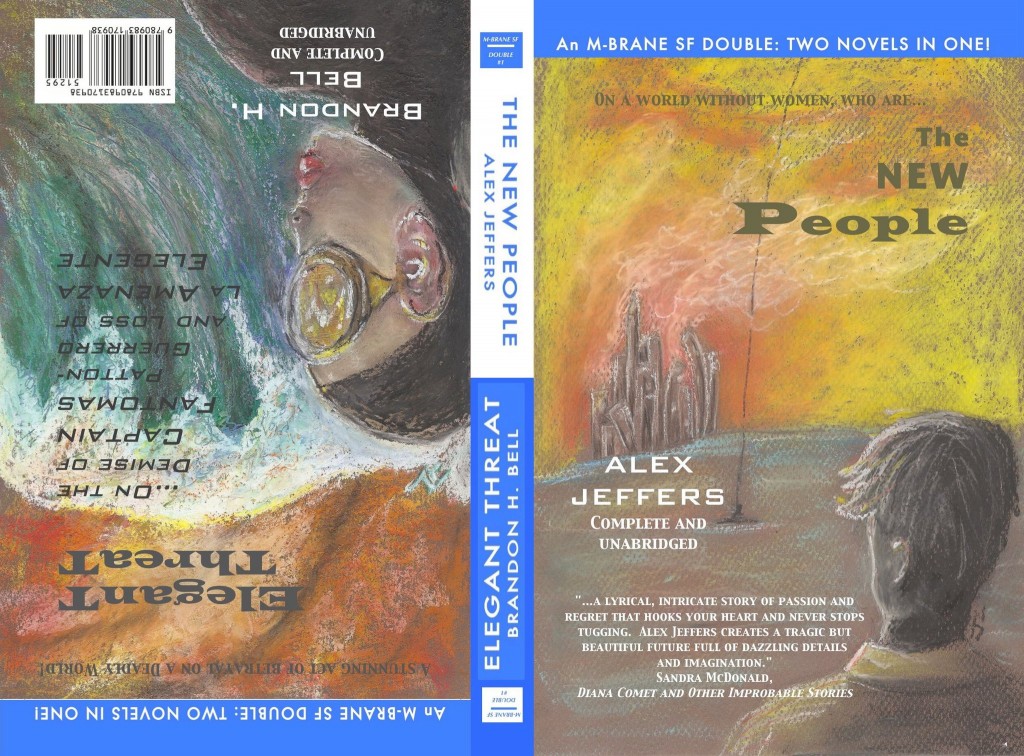 Meanwhile, in my quixotic fashion, I will continue to claim 31 May 2011 as official pub date. And so, to welcome you into my half of the book, herewith the 1,300-word first chapter of my ~30,000-word novella.
---
The New People


1: Haven-city, Haven-archipelago: EJ 313 Zizdy 03

Running blind, he collided with somebody or something, stumbled, nearly fell, but kept running. The endless clamor in his ears was like surf magnified, roaring. Surely people were screaming, sirens wailing. The phone was out—even if he could have heard anything under the roar—a dead, cold weight on the bone of his jaw. The second time, he couldn't keep his balance. Unseen paving rushed up to strike palms and knees, hard and hot. He rolled onto his shoulder. Something punched his side and he continued rolling until the low seawall stopped him. He kept blinking, trying to see, but there was only light. He felt the inarticulate grunts and moans in his throat but couldn't hear them, couldn't stop them. Pavement shuddered under his cheek as the tower continued to collapse. Shuddering himself, he lay there for what seemed like a very long time, arms crooked around his head, knees pulled up to protect his belly, panting, sobbing.

Eventually the throbs of light in his eyes began to slow and dim, though the dull roar continued in the bones of his skull. When he could distinguish the movements of his fingers, he sat up, leaning against the wall. The fog of brightness made everything hazy and flat. Nobody was running now but he saw people in the eye-burning yellow of Emergency Response moving against the backdrop of indistinct buildings. The façades glowed with a white clamor pierced by prisms of hot glass that made his eyes tear. Unless it was shock, fear, horror that made him cry.

They weren't supposed to have, to use weapons. The new people, if that was what they called themselves. The manifesto spoke of reform, of change—not killing. He had wanted to join them, further their aims. They had bombed the nursery.

Pulling himself to his feet, he turned his back on the corniche and its buildings, placed his hands flat on the top of the seawall. Morning sun threatened to blind him again if he looked up. Below, the beach lay deserted, abandoned belongings forlorn on disturbed sands. Waves lapped unconcerned onto the sand, surf burst on the reef. Far across the water, the silvery ribbon of the elevator climbed from the horizon to pierce the zenith, longer than anything, taller than anything—immeasurably taller than the nursery spire before it fell. If he looked right, down the beach, only a little way, there would be débris where the tower had collapsed, broken on the sand. Débris. Bodies. Babies.

Madmen. Only madmen could deliberately kill babies.

Something touched his shoulder. He tried to shrug it off, but it was a hand that grasped hard and forced him to turn. The man in ER yellow was talking to him. "I can't hear you," he said, unsure whether he could be heard himself. "I don't think I'm hurt badly but I can't hear anything except—" The man seemed to be shaking his head. "I can't see very well either."

Wielding some medical implement, the man inspected his ears, then changed the setting to irradiate his eyes. That made him blink, but afterward his vision came clear. Ears remained blocked to any sound but the constant rumbling in his skull of the bomb's aftershocks. The man held up a hand and he understood he was meant to count the fingers: "Three.… Two.… Four.… My name is Jafet. I arrived from Away last night—I'm on vacation. Do you need my ID?"

The man nodded.

Jafet reached for the lozenge on its chain around his neck, suddenly aware he hadn't picked up his satchel when he fled the café. But it was ID the man wanted and he carried that on his person. Tugging it free, he handed it over, scarcely noticed the man slipping it into his journal's aperture. "I'm sorry," he said. "I need to sit down."

Faltering, he reached behind to be sure of the wall and sat. Below the frayed hem of his sarong, ash and dust crusted his legs. There were scratches and streaks of muddy blood—the worst of it from his fall but some might be shrapnel. He lifted his hands: more scratches, more blood, more dirt, on palms and forearms.

Another hand appeared, returning his ID. Jafet took it and looked up. The man's blinding coverall wasn't dirty but creased and crumpled as if he'd pulled it on only a moment ago. His name was stitched across the breast in red, NISIM, above the municipal emblem. His face was blank with concern as he searched his pockets. Finding what he needed, he leaned over Jafet with a different tool, pressed it to the muscle and tendon of Jafet's jaw where the phone was bonded to the bone. A thin, angry whine sliced through the roar in Jafet's ears. He winced.

The man, Nisim, inspected his implement, made an adjustment, pressed it against Jafet's jaw again. The whine modulated down to an easy, not unpleasant tone, then cut out. Nisim made another adjustment.

"Can you hear me now?"

Muffled and distorted by the continuing roar, the voice from the aether was nevertheless distinct. "Yes," Jafet said.

"How close were you?"

"In the café."

Nisim's black eyes opened wide. "Judgment! And you got out before the rest of the building fell on you?"

Jafet shook his head. "I told you—I'm from Away. I've been running out of buildings since I could run. It's like an instinct. I hope—"

In turn, Nisim grimaced. "Probably not. We know about typhoons in Haven, but typhoons give you warning, and you run inside. The nursery was typhoon proofed."

"How…how many?"

"Too soon to tell." Biting his lip, Nisim looked away. "Staff, expectant fathers, other visitors: a few hundred, probably. Most of the babies should survive if we can dig the bottles out fast enough. I should—"

Jafet took a breath. "Yes, you should. Now. I'll be fine." He took another breath. "Thank you for telling me about the babies."

"The bottles are tough." Nisim almost smiled. "Here." He handed Jafet a foil sachet. "Put this on your scratches after you wash. If the tinnitus hasn't faded by morning, or if anything else feels weird, get yourself to a clinic. My phone knows you now, so I'll check in tomorrow." He nodded, turned away, then looked back, a crooked grin ready to turn to tears. With a start, Jafet comprehended the young man's astonishing beauty. "On behalf of the municipality," Nisim said, "I apologize for your vacation being spoiled." Then, trotting, he was away down the corniche.

What's that supposed to mean, Jafet wanted to say. He was breathing hard again, nearly hyperventilating. He didn't want to watch Nisim reach the ruins—the café where the waiter who'd served him, the cook who'd prepared his breakfast, the other customers must all have been crushed when the nursery behind and above collapsed and fell on them. He hadn't authorized payment for his meal before fleeing. It was the second explosion that blinded him: he had paused for an instant, stupid, not twenty meters from the café doors, looked back, looked up. The slender spire of the nursery—first and largest nursery in the world—was moving, jerkily swaying. He knew it was designed to move, but not like that. At the top of the spire, the titanic sculpture gleamed and flashed as sunlight caught on its facets and curves: stylized father nurturing stylized son.

But then as he watched, the babe in his daddy's arms flared blue-white like a little star, brighter than the sun, searing Jafet's eyes before he could turn and run, before the concussive blast deafened him.

The first explosion had done the job—the second was merely symbol.

Jafet swallowed dry. Madmen. If it were the new people, he wanted nothing to do with them—he wanted them punished, however noble their aims. His hotel was half a kilometer up the corniche, an easy stroll. He started walking.
---
Intrigued? You might also want to look into issue #10 of M-Brane SF (November 2009), led off by "Jannicke's Cat," a novelette from two hundred fifty years earlier in the history of The New People's planet; and M-Brane SF Quarterly #1 (October 2010), containing "Annie," a short story roughly contemporaneous with "Jannicke's Cat."
Both those stories, along with The New People and much else, are meant one day to be folded into a volume of conventional-novel length. A Boy's History of the World (working title) will be a sweeping sci-fi panorama of the extra-solar planet Rahab, from the foundational trauma of Eve's judgment, when all the women began to die, to the first tentative recontact with a human universe containing two sexes.
That's the plan, anyway. Logistics are complex. Watch this space for progress reports.